Placeholder page for information about generic undead type of mobs.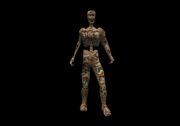 Numerous types of undead mobs are found within Norrath:
Awakened elf
Awakened shadow
Doomed
Flesh fiend
Ghast
Ghost
Ghoul
Revenant
Rotting defender
Rotting guard
Skeleton
Skeleton high guard
Spectre
Spirit
Unliving guard
Specific loot
Edit
There is a large variety of gear that drops exclusively from undead. The following item sets are specific to the undead class of mobs:
Boneguard set
Boneknight set
Grimlink set
Mournlink set
Mud caked set
Rat chewed set
Reeking set
Revenantguard set
In addition, the following individual items are dropped exclusively by undead:
Blightmetal bangle
Bone edged scimitar
Bonehunter's trophy
Bonelimb longbow
Brilliant bone earring
Everchill medallion
Gaping icon
Grimsplinter
Grinning icon
Gloomsorrow wakazashi
Macabre raiment
Repugnant ring
Zombieback tunic
Ad blocker interference detected!
Wikia is a free-to-use site that makes money from advertising. We have a modified experience for viewers using ad blockers

Wikia is not accessible if you've made further modifications. Remove the custom ad blocker rule(s) and the page will load as expected.