Slithtar Hive is a zone consisting primarily of desert. It is bounded on the west by
Sea of Lions
and on the east by
Hazinak
. To the north lies the
Great Waste
and Sslathis is to the south. Slithtar Hive is home to the main colony of Slithtar, an insect-like race and mortal enemy of the Chiktar.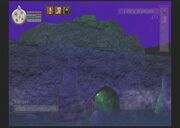 The following mobs are commonly encountered in Slithtar Hive:
Slith Tar Guard
Slith Tar Scout
Points of interest
Edit
The primary features of note in Slithtar Hive are the various hives themselves; typically one is found per division of zone - in (NW), (N), (NE), and so on. Each hive is home to several slithtar guards and scouts, as well as a Thornfiend.
The Slith Tar Queen herself is found in a hive in Slithtar Hive (C), below ground.
Ad blocker interference detected!
Wikia is a free-to-use site that makes money from advertising. We have a modified experience for viewers using ad blockers

Wikia is not accessible if you've made further modifications. Remove the custom ad blocker rule(s) and the page will load as expected.