The
packmaster chestguard
is a banded mail quality chestguard.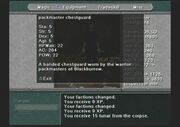 A banded chestguard worn by the warrior packmasters of Blackburrow.
Statistics
Edit
Classes: WAR PAL SK CL
Races: ALL
Item Level: 31
STR: 5
DEX: 5
AGI: 5
STA: 5
HP: 22
POW: 22
AC: 204
Appearance
Edit
The packmaster chestguard use the beige banded mail model.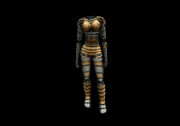 Drop Information
Edit
The packmaster chestguard drop from various gnoll pack masters in Blackburrow, including Pack Master Azerif and Pack Master Legurf.
Ad blocker interference detected!
Wikia is a free-to-use site that makes money from advertising. We have a modified experience for viewers using ad blockers

Wikia is not accessible if you've made further modifications. Remove the custom ad blocker rule(s) and the page will load as expected.