Leggings of sureshots
are chain quality leggings. Prior to the introduction of crafted armor, they were a highly sought after item, providing a substantial amount of STR.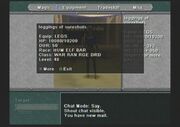 [edit] Statistics
Edit
Classes: WAR RAN RGE DRD
Races: HUM ELF BAR
Item Level: 48
[edit] Appearance
Edit
Leggings of sureshots uses the light green chain model.
[edit] Drop Information
Edit
Unknown.
Ad blocker interference detected!
Wikia is a free-to-use site that makes money from advertising. We have a modified experience for viewers using ad blockers

Wikia is not accessible if you've made further modifications. Remove the custom ad blocker rule(s) and the page will load as expected.