Ikcil's Warblade
is a two-hand sword.
A heavy blade of goblin make. Although crude, it has been enchanted with the endless ice of the north.
Statistics
Edit
Classes: WAR RAN PAL SK
Races: ALL
Item Level: 18
STR: 15
DEX: 8
FR: 10
CR: 5
Appearance
Edit
Ikcil's Warblade uses the battleblade item model (that of
Carnage
), making it a highly sought-after item for lower level player characters.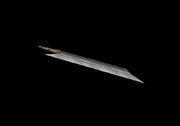 Drop Information
Edit
Ikcil's Warblade is dropped by King Ickcil in the Freezeblood fortress.
Miscellaneous
Edit
Interestingly, despite being dropped by and named for King Ickcil, the warblade bears a different spelling of the goblin king's name.
Ad blocker interference detected!
Wikia is a free-to-use site that makes money from advertising. We have a modified experience for viewers using ad blockers

Wikia is not accessible if you've made further modifications. Remove the custom ad blocker rule(s) and the page will load as expected.