Heartsbane
is an epic weapon, available only to rogues. It is a 1HP weapon.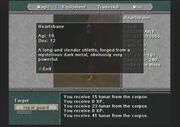 A long and slender stiletto, forged from a mysterious dark metal, obviously very powerful.
Statistics
Edit
Classes: RGE
Races: ALL
Item Level: 49
NO TRADE
DUR: 65
Appearance
Edit
Heartsbane uses the epic rogue stiletto model.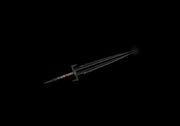 Drop Information
Edit
A pair of Heartsbane are obtained by completing the 49 epic quest line for rogues.
Ad blocker interference detected!
Wikia is a free-to-use site that makes money from advertising. We have a modified experience for viewers using ad blockers

Wikia is not accessible if you've made further modifications. Remove the custom ad blocker rule(s) and the page will load as expected.