The dog breath tunic is a leather quality tunic. It is dropped by various named gnolls in Blackburrow.
This old tunic stinks of dog breath, though when worn, enhances one's stamina and ferocity.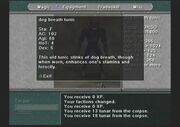 Statistics
Edit
Classes: MNK BRD RGE DRD ALC
Races: ALL
Item Level: 30
STA: 7
AGI: 10
DEX: 5
HoT: 4
AC: 102
Appearance
Edit
The dog breath tunic uses the brown leather tunic model.
Drop Information
Edit
The dog breath tunic drops from various assassin gnolls in Blackburrow, including Assassin Daegerd and Assassin Delgersh.
Ad blocker interference detected!
Wikia is a free-to-use site that makes money from advertising. We have a modified experience for viewers using ad blockers

Wikia is not accessible if you've made further modifications. Remove the custom ad blocker rule(s) and the page will load as expected.