Bulbor's Kitchen Knife
is a 2HS weapon.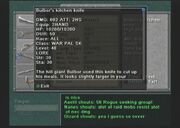 The hill giant Bulbor used this knife to cut up his meals. It looks slightly larger in your hands.
Statistics
Edit
Classes: WAR PAL SK
Races: ALL
Item Level: 48
LORE
Appearance
Edit
Bulbor's Kitchen Knife uses the executioner blade item model.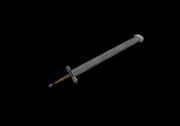 Drop Information
Edit
Bulbor's Kitchen Knife is dropped by Bulbor.
Ad blocker interference detected!
Wikia is a free-to-use site that makes money from advertising. We have a modified experience for viewers using ad blockers

Wikia is not accessible if you've made further modifications. Remove the custom ad blocker rule(s) and the page will load as expected.