Boneguard gloves
are banded quality gloves. They are part of the
Boneguard item set
.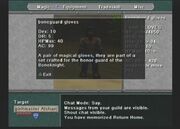 A pair of magical gloves, they are part of a set crafted for the honor guard of the Boneknight.
Statistics
Edit
Classes: WAR PAL SK CL
Races: ALL
Item Level: 18
DEX: 10
HP: 40
DR: 5
AC: 89
Appearance
Edit
Boneguard gloves use the grey banded gauntles model.
Drop Information
Edit
Boneguard gloves are dropped by undead mobs within the appropriate level range (16-20).
Ad blocker interference detected!
Wikia is a free-to-use site that makes money from advertising. We have a modified experience for viewers using ad blockers

Wikia is not accessible if you've made further modifications. Remove the custom ad blocker rule(s) and the page will load as expected.