Bandit Hills is a zone consisting primarily of plains and light forests. It is bounded on the west by
Jared's Blight
and on the east by
Highpass Hold
. To the north lies
Merry-by-Water
and
Strag's Rest
is to the south.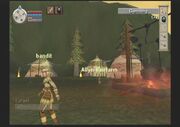 The average mobs in Wyndhaven are of levels 20 to 30.
The following mobs are typically encountered in Bandit Hills:
Points of interest
Edit
In Bandit Hills (C) and (W) are various bandit camps. In EQOA: Classic these were highly camped areas for leveling - as they were both close to the nearby gathering area of Darvar Manor, and additionally were known for sought-after items including the Grimblade and Ouch.
Tree spirits congregate on the hillside in Bandit Hills (N). Commonly referred to as "trees", this camp was also highly used in EQOA: Classic.
In Bandit Hill (SE) is a small cave that runs rampant with serpents. Deep within spawns the Serpent King.