Agra's Invocation
is a 2HB weapon.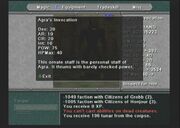 This ornate staff is the personal staff of Agra. It thrums with barely checked power.
Statistics
Edit
Classes: ALC MAG ENC NEC WIZ
Races: ALL
Item Level: 33
DEX: 20
INT: 10
HPMax: 40
POW: 75
CR: 20
AR: 10
Appearance
Edit
Agra's Invocation uses the ?? item model.
Drop Information
Edit
Agra's Invocation is dropped by Agra.
Ad blocker interference detected!
Wikia is a free-to-use site that makes money from advertising. We have a modified experience for viewers using ad blockers

Wikia is not accessible if you've made further modifications. Remove the custom ad blocker rule(s) and the page will load as expected.